Why Marijuana should be decarboxylated first
Why Marijuana should be decarboxylated…
For all you beginners, your next question is what the heck is decarboxylation! That was my question when I first first heard this word too. It's a long word, sounds kind of scientific right? First try saying it really fast… it's fun 🙂 Decarboxylation, click on the word here and you can read for yourself, Wikipedia's version. I can give you a shorter simpler version of why Marijuana should be decarboxylated. Read on
Decarboxylation is only needed if you are going to use dried Marijuana flowers/buds in edibles, in other words, putting Marijuana into food products for dosing. Many people mix decarboxylated buds into brownies, cookies, gummies, candies or make it into a Cannabis Butter. The baked goods are often made with the cannabis infused butter instead of putting the actual decarboxylated cananbis plant into the recipe.
The act of smoking or vaping the cannabis buds decarboxlyates
the plant while you enjoy the effects. Concentrates like Phoenix Tears, wax, shatter, rosins are already decarboxylated through the process of making the products.
Heat is involved in the making of these, which becomes the decarboxylation process.
Marijuana or Cannabis (it's commonly known other name),  has various products made from it's flowers/buds and it's smaller leaves (trim) close to the buds. The flowers contain 480 known components, and of those 111 are cannabinoids (at last count…). In their raw form, the two most famous Cannabinoids are known as CannabindiolicAcid (CBDa) and TetrahydrocannabidiolicAcid (THCa).
These two in their natural raw form are less bioavailable to our organic bodies, but heating them changes them into their neutral form without the Acid molecule. This is oversimplifying the science, but most of us are not scientists, so there it is, simple. For example, most greens that one would eat in a salad, are better left raw, cooking them destroys much of what makes them healthy for our bodies.
Carrots are an exception, as cooking them makes their carotene more bioavailable for us. Carrots are more digestible cooked rather than raw. Hey did you know that? I found that surprising when I first learned this fact.
Marijuana two best known Cannabiniods,
CBDa and THCa, are changed into CBD and THC without the acid. These two Cannabiniods have just become different compounds. As the new compound CBD, it has the ability to kill cancer cells better than it's previous condition as an Acid. As CBD, it has souped up ability to take the 'fire' out of inflammation to start the healing process.
THCA, in it's raw unchanged form has no ability to affect your brain, but when it's been decarboxylated and has changed into THC, it now has the ability to create the 'high' that it's famous for. THCA and THC both relieve inflammation associated with disorders or diseases like arthritis, autoimmune conditions, and many others. Both versions are a healing dynamic, raw or heated.
Only the heated version THC creates a psychoactive affect on the brain. THC can improve your mood, uplifting your view of life, and is a reliever of pain.  CBDA, the cannabidiol in it's raw acid form,  also relieves inflammation and associated pain, but is just more efficient in it's heated form of CBD. Hemp CBDs fall into the same categories as CBDs from Marijuana as far as healing inflammation.
Alright, now you know why Marijuana needs to be decarboxylated
to be at it's peak efficiency, but now I will give you the How to decarboxylate Marijuana. I will give you some options.
#1-Marijuana can be decarboxylated in your oven on a baking sheet, or in a pressure cooker, or in sealed canning jars (in oven) or vacuum packed bags (in a boiling water bath). These methods need careful watching, to ensure the correct temperatures are maintained.
The last thing you want happening, when you've spent some money on the buds, is to ruin them!  Be warned, that the oven method will expose your oven and home to some pretty potent marijuana scents!
Marijuana also contains Terpenes, which give the plant it's unique odour and taste. Decarboxylating on a cookie sheet, as many do, results in many Terpenes being lost into the air. So instead of having the flavours and scents in your product, you'll have much of it scenting your oven and home.
Care must be taken not to overheat the cannabis because at higher temperatures, the THC is converted to CBN. CBN is also a cannabinoid but has an unpleasant flavour comparatively, not something you want for baking or cannabis butter.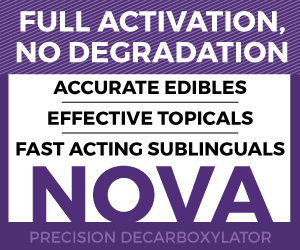 #2 Marijuana can be decarboxylated in special devices made for that purpose like the Nova. Recently, a young woman inventor (Shanel Lindsay), helped by a small team, came up with a device that decarboxylates easily and simply with no careful watching or nail biting.
No smell in your oven or cooker either. The device is about the size of a large Thermos and runs on minimal electricity. For personal use, this device is perfect and requires no special knowledge or experience. Click on the image to the right, to check out her website. →
There are a lot of videos out there, showing how to decarboxylate marijuana but some of them do not make sense to me. Why? Research has shown that the ideal temperatures to decarboxylate are between 240-245 (115.5C-118.3C) degrees Fahrenheit. Some of the videos show marijuana being 'decarboxylated' in vacuum sealed bags in a water bath.
The temperatures of a water bath will not go over 212F (100C), which is the boiling point (in Canada), so decarboxylation is not going to happen at that temperature, right?  A Pressure Cooker could, but they generally heat at 250 (121.1C) degrees, which is at the higher end. It would be easy to overheat your product in a Pressure cooker.
Of all the options, the best decarboxylation method, is using a device like the Nova. The second best option would be a carefully monitored method of a covered cookie sheet. The cookie sheet video is directly below. The third best in my opinion, is the canned jar method, however, you must have a reliable stove and canning jars that won't burst.
I am not entirely sure that ALL the cannabis in the jars would be decarboxylated, the center of the jars would stay cooler than the cannabis along the sides of the jars. However, at least all the Terpenes would remain intact.
Note, this comment was made by a viewer who seems to have a lot of experience with this…
"1. NEVER open your oven to check on your weed, because of the heat loss 2. Cooking your weed this long at 115 degrees c will destroy a lot of the THC in your weed The problem with this video is that the decarboxylation is treated like you would normally cook a cake.
The decarboxylation from THCA to THC is a very "fragile" reaction, and lab research tells us that the approximated time for the THCA to fully decarboxylate into THC is about 30 minutes at 110 degrees C, 9 minutes at 130 degrees c and 6 minutes at 145 degrees c. So you can't tell by eye measurement when your weed is done. Carefully watch your temperature and time."
I personally will reach for the NOVA, when I get a chance to decarboxylate my own weed. There you have it… decarboxylation. You learned something new today 🙂